*Links on this page may no longer be active.*

Great Moments in Fridge-Mag History
May 2011
December 2010
Fridge-Mag.com? Wasn't this site fridge-mag.net?
Yes, yes it was. I recently made a nice new .net page header and everything. Unfortunately the .net domain got lost in transit when I moved the site to a new host. So now it resides here, at the less cleverly-named fridge-mag.com.
On the bright side: I moved to new host because I have plans to do more with this site in the coming year: new projects, new content; a new URL is only fitting. Please update your links and bookmarks and stay tuned!
August 2010
Biennial Update
Yes, this site has come back to life! A little, anyway.
Here's what's going on right now:
I will have a half table at the 2010 Small Press Expo, September 11-12, in Bethesda, MD. If you're there, stop by and say hi. I'll have new Ball Point comics to give away and the latest Turtleneck Boy for $1 (in addition to all my old stuff)
The big comics news around Hamtramck this year is The Amazing Cynicalman: The Movie, a live action feature length film written and directed by Matt Feazell. We just wrapped up filming and entered post-production. The movie features most of your favorite characters from the Cynicalman comic and stars a lot of famliar faces on the Detroit-area minicomcs scene (Jim Mackey, Sean Bieri, Aaron & Pete Trudgeon, Michael Marcus, Gary Freeman... and that's just off the top of my head. I play Lizard Girl. Check into Matt's website periodically and watch the progress!
I have a few pieces up in galleries right now:
Graphic Stories is a collaboration between Green Brain Comics and Oakwood Healthcare's Arts for the Spirit program. Participants in Oakwood's creative writing workshop wrote pieces to accompany art by area cartoonists and the resulting works have been touring around the Oakwood hospital system all year. Catch it at Annapolis Hospital (33115 Annapolis, Wayne, MI) until the end of the month.
Mirth, Mockery and Mayhem: The Michigan Comics Show is a traveling exhibition from Eastern Michigan University and features an impressive collection of cartoonists from the"tri-costal state". Catch it on its final leg of its statewide tour at the Ella Sharp Museum in Jackson Now through October 31.
June 2008
Mini-Update
Not My Small Diary #14 is available now. As promised, here's the ordering info.
If you're anywhere near Hamtramck between now and July 12, head down to Cafe 1923 (2287 Holbrook, Hamtramck) for the latest Hatch exhibit, The Art of Dr. Sketchy Detroit: An exhibit of drawings & photos from the Detroit chapter of Dr.Sketchy's Anti-Art School. I have a number of sketches on the walls, and I'm in the company of some very talented local artists. The opening reception's this Friday, June 6, 6pm - 9pm, with figure drawing in the courtyard, so bring your own sketchbook and join in the fun! For more information on Dr. Sketchy Detroit, head over here.
Smidget the Horse lives! Well, okay, sadly, no. But visitor Alexis G., trainer and close personal friend to Smidget, wrote to fill in where the kids' book left off. Check it out!
Spring 2008
All the New News is Old News By Now.
Okay, I'm back. If you kept this news page in your browser bookmarks for nearly 2 years waiting for me to update, I am in awe of your patience and I thank you.
I've spruced up the site a little. There's a new splash page, some more comics, and a long news update below:
Here in Hamtramck...

Hatch: a Hamtramck Art Collective is still going strong. We just took control of a city-owned building and are currently working toward transforming it into an arts center.
I've been an officer and a board member with Hatch for 2 years now. I also write the newsletters, so if you need proof that I'm actually capable of updating something on a regular basis, you can sign up for the "Hatch News and Events" mailing list. Also, check out my online gallery and our shoppe with items for purchase by me & my fellow members.
Gallery Shows, 2006-2008
Getting involved with Hatch has also gotten me making art to hang up on the walls. I had a couple of collage pieces accepted into 2007's juried show, "Hatched!" and participated in last summer's Exquisite Corpse show, described here.
In addition to these, I had the honor of participating in a few great comics-themed group shows. The exhaustive "Leapin' Lizards" ran at Eastern Michigan University from November 2006 to January 2007. Read about it here. This winter, the Creative Arts Center in Pontiac, MI hosted "The American Comic Book: A Detroit Perspective" which saw the debut of eight small watercolor pieces by me.
365(+) Days Late
Fans of Otis Fodder's 2003 365 Days Project probably know this already, but it came back, bigger and better, in 2007, hosted by New Jersey's legendary radio station WFMU. I didn't do the accompanying art this time around, but I contributed a number of records from my collection (to find them, look for "Suzanne Baumann" on this page).
I did, however, create a cover image for this record about toilets. Plus, I illustrated and designed the packaging for a 365 Days-themed data DVD given away as a WFMU premium last year. (The premium's long gone now, but you can read about it at the very bottom of this archived page).
Can't Forget Printed Matter !
In 2006, I had the privilege of interpereting the overheard conversation that gave I Keee You!! A Collection of Overheards its title. The book features real conversations illustrated by over 40 cartoonists, and of course I think it's awesome. Just check out these endpapers!
Not My Small Diary #13, a two-volume issue centering on the theme of "luck", came out in late 2006. I had a 3-page story in there, and just sent in a 2-page story for issue #14 (dating) so be on the lookout for that soon!
The Blokes of Ball Point appeared, in spot-illustration form, in issue 21 of Lady Churchill's Rosebud Wristlet a few months back, too!
Whew. That's about it for now, I think!
-Suzanne
August 2006
Road Schedule
Wolver(Zine)
: It's a new zine fest. I don't know what to expect; all I know is I'll have a table there, 10am - 3pm this Saturday the 26th! If you can't make it there, I'm also going to
SPX
in October, possibly
Canzine Toronto
, and of course
SNAP!
in November. Will I have anything new ready for these shows? Hopefully. I'm working on it.
Wouldn't You Like to Be a Sketchy, Too?
Hatch is planning to make appearances at the Hamtramck Festival and Dally in the Alley in September. If you're in the area, stop by our booth, say hi, maybe even become a member!
More Hamtramck goodness in my contribution to the latest issue of MungBeing.
---
July 2006
As Eavesdropped, Vol. 2
was released in May. Eight more overheard conversations for your reading enjoyment, only 50 cents!
Order here
.
While you're checking out the
ordering page,
why not take advantage of this offer? I had to hike up the price a bit, to keep up with today's postage rates and my ever-expanding catalog, but this new price averages out to $1 per item, which is still pretty good deal, I think.
This section
of the site is more like a scraggly desert these days, I know. But sometimes I find something that really needs to be shared.
Here ya go
.
---
April 2006
Comfort Stand: Popping Out
All good things must come to an end, and March 3 and 4 marked the very last Dondero High School Pop Concert (which you may remember from
the 365 Days Project
). To celebrate, I've released 7 years' worth of earlier concerts on
Comfort Stand
. The
sampler
is a good place to start, but that's only the tip of the iceberg. Check out the full concerts
on this page
.
This is also significant as the eightieth and last release for Comfort Stand Recordings. The hours upon hours of free music will remain online for you, though. Thanks on behalf of the whole staff to all of our enthusiastic, supportive visitors through the years. Now go out and start your own netlabel.
In Other News
Sean Bieri has started a blog! Sean freakin' Bieri! You know, the Popeye-Jesus guy.
Go here
.

January 2006
A Little Update
Old cartoon in the new MungBeing.

It's scaled down considerably for the web, but you can still kinda make out this latest Metro Times illustration.

Comics and illustrations by Sean Bieri, Matt Feazell and myself are on display on the third floor of Hamtramck City Hall (3401 Evaline, Hamtramck) from now through March. Thanks to Chris Schneider and the Hamtramck Beautification Commission for continuing to bring local artists to the attention of the community (and vice versa).

SPACE will be taking place on Saturday, May 13 this year. Yes, I have a table. Do stop by!
---
December 2005
The Inevitable Has Finally Come to Pass
Yep. I'm posting a picture of my cats. Here they are staring straight into your soul. That's Tato on the left and Tari on the right. They make a cameo appearance in Turtleneck Boy #5, and Tari shows up in the latest MungBeing, so I figured it was time to show you what they really looked like.
And this page sports a recent (non-cat-related) Metro Times illustration I did, for your holiday enjoyment. Happy new year!
---
October 2005
Super Mega Fridge-Mag Update Action Time Fun!
Detroit area small press comix fans rejoice: on Saturday, October 29, we're finally having a show with nothing but cartoonists, as far as the eye can see. Nary a storm trooper-costumed dork in sight! Okay, I shouldn't guarantee that, being so close to Halloween and all, but I can guarantee SNAP! won't be the sci-fi/gamer/anime/aging playmate/autograph hound fest that usually passes for a comic con around these parts. Just 3 bucks to get in, and you get to meet dozens of creators who will happily to talk with you. Brought to you by the good folks at Green Brain, naturally. Read all about it.
New Comics & Illustrations!
Okay, Here's the rundown:

Turtleneck Boy #5, 20 pages, nine wonderful cartoonists, only a dollar!

The Beasts of Ball Point, crazy made-up animals with cool names I'd never give a "real" character. Totally free and online!

Your a Bitch, a childhood memory-themed comic in the latest childhood memory-themed issue of MungBeing.

An illustration in the Editorial section of the October 19-25 Metro Times.

I have a one panel wordless cartoon in the upcoming 5 O'Clock Shadow too. Keep yer eyes peeled!
Trick or Treat
Spooky Stuff for Halloween:
In the mood for a bizarre low-budget Christian-themed horror movie packed with gratuitous cartoonists? Aw, come on, who isn't? Check out Hamtragic; a new DVD by Janet Komp Hyson and Lisa creator Aaron Trudgeon. Shot on location right here in Hamtramck, MI, Aaron was generous enough (or crazy enough) to cast a bunch of his cartoonist collegues. If you ever wanted to see me dealing drugs on a street corner, here is your chance!
If you missed it last year, you can once again download 2 CDs' worth of monster music from the always amazing Oddio Overplay. The comp is called Ghouls With Attitude, I did the cover art, Otis did the mix.
I Bear-ly Remember Drawing This...
I met the masterminds behind Strange Thingks Publishing at AMC 2 years ago, and they asked me to contribute to their Post All postcard project. They're still accepting submissions, apparently, and the finished ones are up on this page. Scroll all the way down to my contribution, inspired by a student who uttered the immortal line "Rarr! I'm a bear with pants on!" at the 2003 Dondero High School Pop Concert, recounted here.

Speaking of Dondero, this sad bit of news was passed on to me last week. What does this mean for the future of the A Capella Choir? Sheesh, if they take away Pop Concert and the Main Art Theatre, I'll have no reason to go to Royal Oak anymore...
---
July 2005
More Hamtramck Graffiti.
Ah yes, good old-fashioned gang rivalry.
---
June 2005
Avast!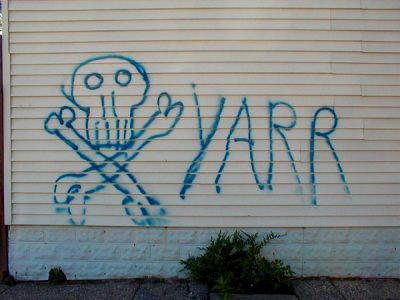 Ye hast seen nary an update in 6 months' time, but I be back! Thanks to neighbor Katherine for the above photo; shot here in Hamtramck, a rusty treasure island floating in the middle of Detroit. I love living here and, if I were actually good at updating my website, I'd start a blog filled with photos and stories about this place. Luckily, others have had the same idea. It's not all pirates & aluminum siding, you know.

I've come up with a new series of four, featuring punchy animals and chocolaty brown accents. Sold separately or as a set. Check 'em out here.
New Comics
Many projects have crossed my drawing table in the past few months. Here are some you can check out right now:

Not My Small Diary, the legendary comics anthology edited by Delaine Derry Green, has now reached its 12th issue. It's huge! I mean, check out all these contibutors. I return after a 5-year absence (maybe 6? I don't remember) with a real late night diary entry written at age 14, newly illustrated in pretty black and white gouache.

I recently completed a comics adaptation of Navajo Lady, the signature song of self-proclamed country music superstar, Mar-tie. The comic appears in the second and latest issue of MungBeing, a big new web magazine that's totally worth your time. Otis Fodder and I represent Comfort Stand Recordings in this section all about outsider music.

Also, check out my panel in the latest issue (no. 16) of Dale Martin's comic book, Watusi, the Talking Dog. Dale does the first and last panels of every story, and other cartoonists fill in the middle, one panel at a time. You never know who or what will show up next!

More updates throughout the summer, knock wood!
---
January 2005
Random Vegetation.

(Window in a strip mall. Redford, Michigan; 1998)
Looks like someone's gotten a little too big for his retail space...
---
December 2004
Slow News Month...
Thought I'd give everyone a peek at where I do my work:
This was taken last May, but things still look about the same. Just picture that little blue table cluttered with inks, pens, and brushes; and picture that chair replaced with something more, um, wheely.
Oh, and the philodendron over the drawing table? Bad idea.
---
November 2004
Hello!
Poking my head in to direct all you folks to a couple publications where you can see my work right now:

The current issue of The Furnace features "Tappity Thump", a one-pager about a guy with a hammer. That's a little detail from the comic on the left.

If you're in Detroit, pick up a copy of the Metro Times and check out the astrology section: I'm drawing the Zodiac symbols. Scorpio's in there now, Sagittarius is coming soon. (they're in the print edition, but don't appear on the MT website. Sorry, out-of towners)

That's all I got for now. Thanks to everyone who attended the gallery show last month! -SB
---
October 2004
Happy Halloween! For a limited time only, you can grab this 2-disc mix CD to get you in the mood. Even if you don't download everything, at least check out the covers, okay? More details here.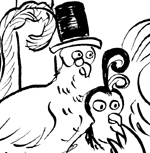 Well, sort of. Novelist Anne Mallory recently approached me with a fun freelance project: draw my interpretations of the caricatures described in her new book, Masquerading the Marquess. She'll be putting them up bit by bit on this page, so take a peek!
Random Vegetation
I happened upon this note just this morning; scrawled on the back of an old button card, inside a big box of secondhand buttons a trash-picking friend dropped off at my place months ago.



I was unfamiliar with this tongue twister/song/brewing suggestion before today, but it's grown on me already. Thanks, mysterious once-owner of my buttons, for writing on whatever was handy. The world may never know what possesed you to pick up the pen.
September 2004
Click on the title link to get the details in PDF form. Eight bucks ($5 for kids!) gets you a full day of fun workshops with local legends Jim Ottaviani, Sean Bieri, Mark Crilley, Matt Feazell, and Dan Merritt. I, along with many other cartoonists from the region, will be there all day long to help out, answer questions, draw, sell comics, and have fun (and hopefully see you!) The seminar's in conjunction with the Padzieski Gallery exhibit "From Wham!tramck to Yipes!ilanti", which you can still check out until November 6.

After the seminar, be sure to join us at Green Brain Comics for a 3-hour comic jam (that's where I draw one panel and pass the page to you, you add the next, and by the time the sheet reaches the end of the table we've made a whole story. It's fun.) Bring your pen!

SPX is coming up fast! I have a table and will be there the full 3 days. And please try to catch the "Women in Comics" panel on Saturday, October 2 -- I'll be speaking!
---
August 2004
Now, this has been a long time in the making: a 2-month long gallery show in Dearborn! Visitors will get a chance to see original drawings from their favorite Southeastern Michigan cartoonists, including rough drafts and preliminary sketches. All my dirty little drawing secrets will be on display. If you are in the Dearborn Area, pop into the opening on September 9 and say hello! For more info, see the press release on Green Brain's site. For an even ten bucks, you can now get "Fridge-Mag: The Early Years". It's a big packet stuffed with older minis, including Damned Bunnies, Chris Leif, The Moldy Bagels and more. Full details on the Order page.

I take Paypal payments now, too. This should make things easier on international types and lazy Americans who won't even get up to mail an actual letter. (Actual letters are still welcome.)

Zine fans: if you haven't read Incredulous yet, might I suggest starting with the July/August 2004 issue? You'll find a substantial 4-page interview with me in there, among many other delights. Find out all about Ringo and his Lucky Charms. Ordering info here.

...Or so I am told. Apparently, there was a review of my 2002 free mini You, Only You in The Comics Journal last month. Did anyone catch it?

The same comic has also been reprinted in the summer issue of Rosco Magazine. Pick it up for free, if you're in Toronto!
In Other News...
I made a magnet. It features a baby alien eating slop. What more could you ask for, really?
---
July 2004
If you missed the 365 Days Project the first time around, rejoice! All the files are back, free for the downloading. There are some stunning sounds in there, and a few came from my personal collection (including 2 separate instances of grown men spreading the word of god in a fake little kid voice... hunt for them). Hosting comes courtesy of the incredible UbuWeb, where you could get lost for days in their Outsiders section alone (and you know you wanna).
Introducing the newest addition to the Free! For Ye! series: Planet Peezo. In case you haven't kept count, this brings the grand total of comics uploaded to this website to 10. Over the course of nearly 3 years. But they're ten good comics, right?
High quality, low maintenence. That's my motto.
Speaking of Mottos...
It's Independence Day as I type this, but I think the sentiment expressed here is something we Americans can appreciate year round: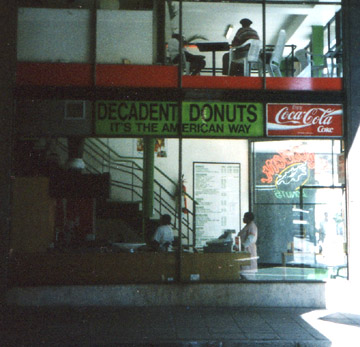 (Snapped by me in Cape Town, South Africa; 1993.)
Plugs for 48 Hours
Here are a couple takes on my comic, 48 Hours of Pure Entertainment.

Carol Pond's review in Poopsheet. Scroll down to see it.
Sean Stewart's review in NewPages Zine Rack.
---
May 2004
A Summer of Appearances!
I'll be traveling around all June long! MoCCA again this year, AMC for the first time in ages; heck, I'll probably poke my head into Motor City this weekend, too.

I'd especially like to draw everyone's attention to the Stumptown Comics Fest in Portland, OR June 6. It's their first year, and my old Midwest ex-pat pal Indigo Kelleigh is running the show. If you're in the vicinity, stop by and say hello. I think you can still even reserve a table for yourself if you act fast!
Random Vegetation

From "The World of Teddy Ruxpin: The Airship", published in 1985. I picked this up in '98 as reference for 'One-Lip' Larry but didn't notice this ad copy on the back until now. Apparently, Ruxpin likes the Grunge.
---
April 2004
Random Vegetation
Sorting through old clippings lately and found this: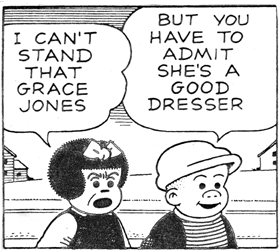 Ernie Bushmiller, of course, 1960s-era, I think. I cut it out years ago to hang in my college dorm room. I'm sure it had three more panels, and most likely three rocks. I no longer remember how the full strip goes, but no matter; it works well on its own.

What? Another CD Cover??
Yes! This one's for famed street musician The Space Lady's new downloadable EP. Take a listen and a look-see here. You will like.
---
March 2004
Lotsa news here, and I'm scrambling to catch up. What's been keeping me away all this time? Well, a good cartoonist always lets the picture tell the story...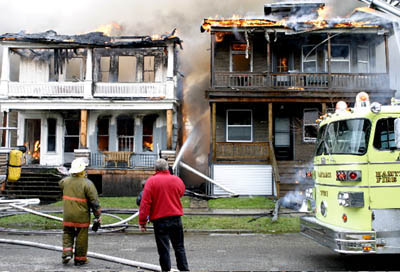 Photo by Carrie Williams, via the Hamtramck Firefighters site.
That's the old Fridge-Mag HQ on the right, a little over 3 months ago. I've since relocated a couple blocks away, so you can still reach me this address:
P.O. Box 12096
Hamtramck, MI 48212
USA
Most of my previously-published comics, both the original art and the computer files, were recovered. Everything's been reprinted, so order all you want.
Unfortunately, many works in progress did not fare as well. A is for Ambroseburg will have to be completely redrawn. I'm still not sure when I'll get around to doing this, but sit tight and I'll make it worth your while. Everyone's Turtleneck Boy submissions are a little smoky, but in otherwise good shape. Look for TB5 and a new As Eavesdropped on the horizon fairly soon.
There's also this new comic:
48 Hours of Pure Entertainment!

This book collects two of my 24-hour comics, Dwayne duKane and his Dried-Out Brain and A Quest for Quiet Cat Toys.
You can read them here and here or, if you're feeling charitable, get it in print for $2. I will donate all money to Friends of Lulu and the Comic Book Legal Defense Fund: two valuable organizations to all of us in the cartooning business (and I can speak from direct experience for FOL: they even took up a collection for me after the fire!)
Free CD! With a Cover by Me!

I recently did the CD cover art for Otis Fodder's newest release, Music to Drive Cross Country By. Otis' music has kept me company at the cartooning table for years, so it was a true honor and treat to draw this.
Download your very own copy, artwork and all, from this page, for absolutely free! No excuses: it's from Comfort Stand, the record label that wants you to get their stuff for free off the internet. (But if you wanna pay somebody something, why not make a donation to help out with web hosting fees?)
Small Press Nation: Detroit
Cartoonist and writer Rich Watson has been covering the world of small press comics in an impressive collection of essays over the years. In January, he turned his attention toward my town, and does Detroit proud. here's the article: I was interviewed for it, as were Matt, Sean, and Dan & Katie. For a glimpse of what the mini-comics scene is like over here, give it a read!
Attention Michigan Cartoonists!
If you live in Michigan and want to get in touch with other comics people in the area, why not check out the Michigan Web Comics group? I've attended a few of their monthly meetings (I don't do a web comic per se but nobody seems to mind). They also have a message board and all sorts of projects planned, so have a look around!
SPACE is coming up April 3! If you'll be in Columbus, stop by the Holiday Inn and say Hi!
---
Hi! I'm back tending to the site, after many months of neglect. All sorts of stuff has happened in the meantime, but I'll stick to the big news:
Housewarming Gifts Optional.
I'm proud to announce that fridge-mag.net has outgrown its measly 4 megabytes of borrowed AOL server space (thanks, Mom & Dad!) and has finally moved on. If you've linked to any of my pages: first of all, thanks; and secondly, update 'em now!
Be sure to check back here throughout the winter -- I'll be hauling more fun stuff into my spacious new home as the months go by.
---
June 2003
Flashback!
Added another comic to the site: "Puddin' and Pie", which originally appeared in SPIME back in 1996. If those new, made-over Strawberry Shortcake dolls have you longing for the old-school weirdness of the originals, then this is for you.

Hopelessly Lost but Making Good Time
Just wanna recommend Pam Bliss' wonderful monthly essays over at Sequentialtart.com. They're enlightening reads for anyone who makes comics, wants to make them, or is just curious about the comics-creation process. Volume 3 just came out in print and has the added bonus of cool illustrations you won't see on the web (including one by me on the subject of inking.) Ordering info can be found on Pam's website.
---
May 2003
3 Friends Sit Around & Drink Coffee: Film at 11
There's a mighty fine article about the Hamtramck comics scene (three of us, anyway) in this week's Metro Times (May 14-21). Mike DaRonco talks to me and the usual gang of hammock rats in "Underground Triple Threat". Check it out.

May 3 is Free Comic Book Day.
That's where you can waltz on into any participating comic book shop (click on the title link to find one near you) and they will just give you comic books. Nice to see the big mainstream guys getting into what I've been doing all along! Many of the stores will have cartoonists in them, meeting and greeting the public. I'll be at Dearborn, MI's Green Brain, of course. Stop in -- I'll give you stuff!

For your Reading Enjoyment...
Check out this article about small press comics on Mike Leuszler's blog: a nice, solid layman's introduction to the form. The epigraph should be familiar to those of you who read my about page. There's a cute paragraph about me near the end, too.

You can also find reviews of my latest mini, As Eavesdropped at Optical Sloth and as part of Rich Watson's annual SPACE roundup at Slush Factory.
---
April 2003
We Didn't Come Up With the Name...
...but we'll try to live up to it. Local folks can now read comics by Matt Feazell, Sean Bieri and myself every week in the Hamtramck Citizen. Yep, I'm excited to be featured in my hometown paper alongside two of my closet colleagues and friends. You really owe it to yourself to check out Sean and Matt's work if you haven't already. And by all means, stop into Urban Break for a paper and a good cup of coffee. Owner Mike Rehfus is the man who set this all up. Thanks, Mike!
What? You Don't Live in Hamtramck?
Fret not. I've already collected the first few months' worth of comics slated to run in the Citizen (plus front and back covers you won't find there) into a mini entitled As Eavesdropped... The name more or less explains the theme. For details, or to get a copy to call your very own, write to me. Or you can pick one up from me personally at...
SPACE!!
For the weekend of April 5, I'll be in Columbus, Ohio (home of the Ohio Agricultural Hall of Fame) to attend the 4th annual Small Press and Alternative Expo. Stop by my table and I'll give you my latest mini (see above). While you're there, make sure you track down Jim Mackey and get a copy of his new con-schedule calendar. You'll find a thing or two by me in there.
Suzanne's Cool Cat-Eye Glasses Enter Retirement
Just thought I'd share, since they have generated so many fun conversations among comics folks through the years. My eyesight's gotten worse, and the vintage frames are getting to old to handle another lens replacement. I've ordered a brand new pair which should be on my face by SPACE. They're nice enough; but gosh, they just don't make glasses like they used to! I'm holding on to my old pair, obviously: that ornate metal work, those hyperfeminine curves! Shout-out to Gary Freeman for finding them in the first place. They served me well.
---
February 2003
I'm #62! I'm #62!
I'm the 62nd inductee to the Musea Zine Hall of Fame, that is. And I'm in excellent company. Speaking as a long-time reader of Tom Hendricks' esteemed zine, it's a great honor to be recognized this way. Go spend a good chunk of time at the Musea website and let Dallas' own Art S. Revolutionary show you all the wonders that wait beyond the corporate entertainment machine!

Suprise: I have a couple bits of music related news to share, strangely enough. (And rest assured, the music is strange enough!)

You'll quickly observe it's different as can be...
Have you been visiting the 365 Days site like I told you to do last month? If so, you probably already noticed that I've climbed on board, supplying the art that accompanies Otis Fodder's daily musical selection. Expect to see a different piece of cultural ephemera culled from my bookshelf practically every day this year (except when a guest curator supplies an album cover scan: those are my days off.) And of course, expect me to have tons of fun with this!

I'm an Insomniac Man, Yeah!
Thanks to Phil Milstein at the amazing American Song-Poem Music Archives, an mp3 of a song I wrote at age 14 is now on the web for your listening enjoyment. For those of you not in the know, the Song-Poem industry is behind those "Send in your lyrics, we'll set them to music" ads which appear in your finer supermarket tabloids. Visit this page and scroll halfway down for my story and song. And please note, February 11 is American Song-Poem day. Have a good one, everybody!
---
January 2003
Doin' the Static Cling thing
For your convenience, Static Cling Distro now carries a nice selection of Fridge-Mag comics. I'm very impressed with the way Dystatic is running things. Be sure to get some of her own work while you're there: appealing little books and zines. Mail art, too!

And there's tons more where that came from...
Still can't decide whether or not you want a grab bag? Look before you commit! Satisfied patron Otis Fodder is displaying some of the goodies I sent him on this page— and the 8 pages after it!
(For a grab bag in mp3 format, I highly recommend checking out Otis' 365 Days project. I can vouch for the man, he really does have a full year's supply of incredibly strange recordings.)
---
December 2002
Oh Joy! Turtleneck Boy!
Submissions for issue #5 are starting to roll in, but there's still plenty of space for you! Please consider doing something: just draw a 1-3 page comic (and I use the term "draw" very loosely) featuring a conversation between a boy in a turtleneck sweater and some other person of your choosing. Details on previous issues here. Or order your own copy here.

Send submissions to: Fridge Magnet Concoctions
P.O. Box 12096
Hamtramck, MI 48212
USA
Random Vegetation

I found this sticker in my box of Botan Rice Candy last week. You know about this stuff, right? Asian grocery stores sell it. It always comes with a free sticker and until now, I have always known those stickers to depict a cartoony animal head behind the wheel of a realistically drawn vehicle. An awful clash of clip art made brilliant by its obsessive attention to theme. Needless to say, I love them. I miss them. I don't know what's up with this bumblebee thing.

Website's been up for over a year now, and I can safely say that this is the most popular page, in terms of visits. Go figure.
---
November 2002
Congratulations to Katie and Dan on the grand re-opening of Green Brain Comics! If you haven't yet visited the store in its new Michigan Avenue home; Saturday, November 2 is definitely the time to go. Stop in and take advantage of their "Ten percent off everything" sale, benefitting WHFR fm. I'll be signing there from noon to 2pm, and I'm told there will be great cartoonists and all sorts of fun and games throughout the day. See you there!
---
October 2002
October 19: Review-O-Rama!
A couple projects I've worked on received nice writeups on the web this month. Click the links if you don't believe me. No spoilers, I swear!

"Seeing that team-up between Mills and Baumann work so well was almost worth the price of admission alone."
Greg McElhatton reviews Worlds Apart for iComics.

"It still stands the test of time."
Lee Atchison reviews the legendary Rajiv Coffee Table Book for Sequential Tart.

Happy reading!
October 10
Looks like it's going to be a slow news month. Here are some new magnet designs to check out if you're bored. You get 2 color choices with the Serious Workout cat: a trendy, muted Martha Stewart palette or trippy power DayGlo tones. Liven up your kitchen for only a buck!

More news? Uh, okay. I had nothing to do with this, but I'm just so happy to see a comic strip I've long admired join forces with my beloved Hamtramck and give me something to link to. I've taken countless evening strolls past that big neon weiner myself. What an honor it is to live in the only city in Michigan that Zippy's visited. Heck, l'll even forgive Mr. Griffith for mispelling "desperate"! :)
---
September 2002
Y'know, I've been gloating ever since SPX because Pam Bliss called me "Queen of the Found Object." Then I remember my pal Otis and realize I'm so not worthy of the crown. His web radio program, Friendly Persuasion, is always packed with the sort of obscure audio material that leaves me slackjawed in front of my computer, wondering how on earth he got ahold of it.

This week, though (September 16-22), some of it was supplied by me! And (if you'll allow me to gloat a little more) by golly, it's good! So go now, crank up your RealPlayer, and have fun -- this week and every week!

October 6, 2002 will mark my sixth Canzine. It's one of my favorite zine fairs in one of my favorite cities. Autumn just ain't autumn without my annual trek to the Big Bop in Toronto. Corner of Queen & Bathurst. Free admission. Scores of cool creators. Drop in. Say hi. Leave with armloads of good stuff to read. You won't be sorry.

My latest mini, You, Only You is now online. Read it here.
September 1: Attention Detroit Area Folks!
If you need something to do today, head on over to happenin' Hamtramck for the annual street fair. I'll be there under a tent with the rest of the Rat Hammock Comics Collective (Sean Bieri, Jim Mackey, Jerry Dombrowski and whoever else shows up) sketching, handing out comics, and generally keeping stuff from blowing off the tables. We're set up on Joseph Campau St. by the North Stage, next to the Senate Bar.
Special thanks goes out to Matt Feazell. He won't be there, but his stuff will!
---
August 2002
Greetings, friends and mysterious strangers. I've spruced things up here and there. Can you tell?

Be sure to check out Exuberant Vegetation (formerly the virtual grab bag), where all sorts of lovely new things are in bloom. Have fun,
Suzanne

The nominees have been made public, and now it can be told: I'm on the jury for the 2002 Ignatz Awards. Come to SPX on September 6-8, vote for your favorites, and attend the swanky awards ceremony.
Congratulations to all the finalists. I spent many a night pacing the floor and pulling my hair out trying to decide who'd make the cut. There's some amazing talent out there. If you're a cartoonist and don't already do so, please submit your work for consideration next year.
Serious Workout
Announcing the latest concoction: Serious Workout, a 12-page mini which ain't so serious after all. It's wordless, so you don't even have to read English to enjoy it. More info here.
May 2002

Hi! Long time no see. Things have been nuts 'round here these past few months; but now it's spring, the birds are singing, the mammals are shedding, and a little bit of order has returned to my life. So celebrate — get outside, have an ice cream cone, and when you come back, read Custard King, now on the web.

Oh yeah ... here's all the news you've been waiting for:
More Con Dates
The Motor City Comic Con is coming up on May 17-19! Don't look for my table; I didn't reserve one. However, I do plan to come on Saturday and make a day of it, so maybe you'll see me walking around. I'll have my comics on hand, so if there's anything you want, ask around in artists' alley. Somebody there can probably help you find me.


I'm excited about this new event: The MoCCA Art Festival in New York City. A $5 donation to the museum will get you face to face with a huge, humbling group of exhibitors. How can you lose? (Okay, there's one drawback: it's the same weekend as UPC. I've decided to skip it this year. But hopefully I'll make it next time around.)
Comics News
Turtleneck Boy #4 is ready! I'm really happy with the way it turned out. Read all about it in the catalog section, then order your own copy for just 50 cents!


Scott Mills' Worlds Apart is now available. (See November news for details). The book retails for $7, or you can take advantage of the summer sale at Scott's website. Tell 'im Suzanne sent you.
Check out Monty Anderson's new and improved Spiritual Scream Productions website. It contains all sorts of comic and zine info, including interviews with a diverse assortment of comics people great and small. And if you just can't get enough of me talking about myself, there's even an interview with yours truly. Enjoy!
---
January 2002
2002 Con Schedule Shaping Up!
That's right, I've started to scrape up money and reserve a couple tables. Barring any unforseen circumstances, you have at least two chances this year to see me in person:
Come to Columbus for SPACE on April 20, and you'll not only see the biggest best live assembly of small press cartoonists in the Midwest, you can wish me a happy birthday! Check out the guest list: I couldn't have planned a better party myself. (If you bring me a funny hat, I promise to wear it...briefly.)


On September 6-8, I'll be in Bethesda, MD for SPX (or "the Expo" if you prefer.) Whatever you call it, it's a fine old time. If you like comics (or even if you just like people who make comics), you just have to go!

---

November 2001

I just got news from Scott Mills that his forthcoming sci-fi anthology, Worlds Apart, is now at the printer. The book contains comics written by Scott and illustrated by nine different cartoonists. (My piece, "The Astronaut's Tyke", deals with bastard alien babies.) Check out previews of the book here and expect its release some time this winter!

If you're anywhere near Toronto in early autumn, I highly recommend going to Canzine, an annual zine fair organized by the fine folks at Broken Pencil. To convince you further (or to enlighten those of you who have no idea what a "zine" is), read this article from The Eye Opener, a Ryerson University webzine. It captures the spirit of the show pretty well and contains a surprisingly high percentage of quotes from me. Oh yeah, and they got my age wrong, in case you were wondering.

---

October 2001 Sequential Tart Saves SPX! Cancelled in the wake of the September 11 attacks, Expo 2001 never materialized. You can find the next best thing in Sequential Tart— the October issue features a Virtual SPX, containing an interview with me and tons of other cartoonists you would have met had we all managed to make it to Bethesda.